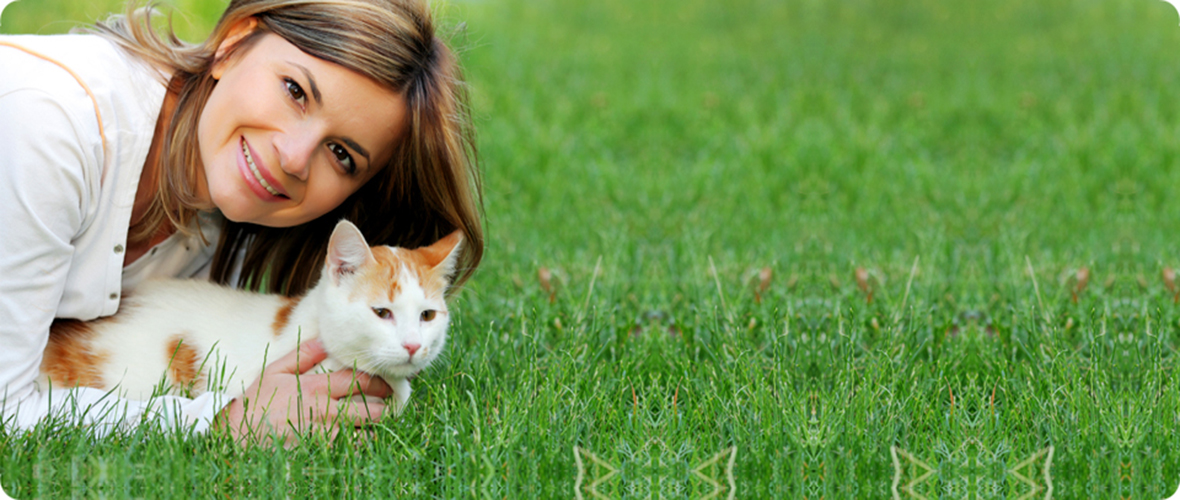 Sniffing, sneezing, coughing, gasping for breath, rubbing your itchy eyes?
I promise, I absolutely promise, you can keep your cat and live happily ever after!  I am living proof that someone with even the most severe allergies to cats (and dogs) can keep their pet AND be symptom-free.
When I met my late husband Dennis many years ago, I also met his wonderful cat, Mr. Joe. Dennis had adopted Mr. Joe from the ASPCA in New York four years earlier. Mr. Joe was a fabulous creature, full of attitude and style. He and Dennis absolutely adored each other.
After spending just a little time with Mr. Joe and Dennis in their apartment, I started struggling to breathe. It got to the point where I was literally doubled over, gasping for air. I visited an allergist, who did the usual skin tests and told me I was allergic to many things, chiefly cats. He told me Dennis and I would "have to get rid of the cat." I told him that was impossible, so would he please tell me what we needed to do so I could live with Mr. Joe without the severe allergic asthma that I had developed.   When I returned to their apartment and began to tell Dennis about my visit with the allergist, I got to the point where I quoted the allergist informing me that we would have to get rid of the cat. Before I could continue, Dennis interrupted me. "That's impossible. He was here first."
You know what? I loved Dennis more because of his loyalty to Mr. Joe. Mr. Joe had indeed been there first, and Dennis had made a lifetime commitment to him. It turns out that there were many things I could do to make living with Mr. Joe not only possible, but comfortable. Here is our list of adjustments that we made, in no particular order:
1. Mr. Joe had to sleep outside the bedroom. In fact, he had to stay out of the bedroom all the time. He wasn't happy about that, but he got used to it. And we lavished extra affection on our Little Boy throughout our waking hours.
2. We got air purifiers for every room in our house. The ones with Hepa filters do a great job of cleaning the air of allergens. Check Consumer Reports to find the best ones for you.
3. I got shots at regular intervals to build up my resistance to allergens. I also used inhalers to prevent my symptoms. They worked very quickly and effectively.
4. Mr. Joe had to have a bath at the groomer's at least once a month. There are special shampoos designed to reduce allergens. Mr. Joe seemed to enjoy his monthly trips to the groomer. He always came back with an especially proud look on his face. I think he was fully aware of how handsome he was.
5. We also wiped Mr. Joe's coat with a wet washcloth every morning. There are products you can buy that can be used once a day to wipe down your pet to reduce allergens.
6. We replaced our carpeting with hardwood floors and our cloth drapes with plastic blinds. Hardwood and plastic don't hold allergens the way fabrics and carpeting do.
Making these changes worked wonderfully for us. I was soon able to live with Mr. Joe and to have no allergic symptoms at all. These ideas may also work for you, or you may need to try something else. There are many, many websites that give very good advice on dealing with allergies.
After 11 happy years together, Mr. Joe died of old age. Dennis and I moved to Los Angeles, where he died far too young of cancer. Dennis and I had three cats when he died, and these precious creatures were a constant source of love and comfort to me when I was grieving over the loss of my husband and trying to rebuild my life. They loved me and they were loyal to me.
Years later, I met my husband Tom. My three cats made Tom sneeze and they made his eyes run. Tom is a singer, so he needs his voice to be in the best possible shape. He went to see an allergist. The allergist tested Tom and told him he was allergic to only one thing, and that was cats. The allergist told Tom we would have to get rid of the cats.
Tom came home and told me about his appointment. I didn't interrupt him. Tom told me he informed the allergist that he wasn't about to ask me to choose between him and the cats. Because he knew which one I would pick.
Yup. I had made a lifetime commitment to my cats. And Tom loved me more because he knew I was someone who put a premium on loyalty. He also knew that there are far too many kittens and cats and puppies and dogs who are already in shelters. Tom knew that there are never enough good homes for all the homeless animals. Once we've made a commitment to our pets, we need to honor that responsibility for the entirety of their lives. These wonderful, loving animals deserve a lifetime home. They all do. It's tragic how few animals actually get a permanent, loving home.
Trust me, it is absolutely possible to live with your animals even if you have allergies.
Hey!
Did you know that for every page and post you can choose between boxed an unboxed layout, title information, breadcrumbs, custom SEO, custom sidebar, and many many more!
Enter Any Shortcode
Recent Posts under 'Lorem'
Contact FALA
To learn more about the cats available for adoption or how you can support FALA, please feel free to reach out to us.

Tel

818-985-8121

Mail

info@forgottenanimalsofla.org

Add

P.O. Box 2285 Toluca Lake, CA 91610